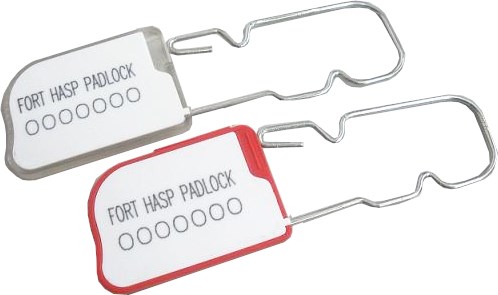 The Fort Hasp Padlock seal offers strong, anti-pilferage, and is diverse in numerous industries such as mining, airlines, retail, cement and sugar to name a few.
One of the main industries we supply with the Fort Hasp seals is the mining industry. As with most seals the use of the seal is all dependent on where the specific company's threats lie. Some companies need to secure their cargo against threats found outside of the premises, where others need to secure their cargo against internal threats.
Some mines use the Fort Hasp Padlock as maintenance labelling indicators instead of as security seals as they come in a variety of different colours, which allow corporations to colour code certain areas of their operation. The Fort Hasp Padlock seals are clearly visible and easy to clean, and the stainless-steel hasp is thin enough to fit through most locking spaces.
For example, the Fort Hasp can be used to indicate the state of machinery such as lifting equipment. If the machine is in good condition, if it needs to be serviced or even if the machine needs to be discarded or replaced. It can also be used to indicate when the machine was last serviced.
The Fort Hasp is a very user friendly and durable seal that can serve as a great alternative to the old conventional padlocks while still providing clear tamper evidence.
The Metal Hasp padlock seal is etched with permanent laser marking for customized names, logos, barcodes and sequential numbers for security and easy identification.
Laser marking offers the highest level of security as it cannot be removed or replaced without showing clear signs of tampering. Scoring on the metal hasp allows for easy removal by hand, the Metal Hasp is designed for single use and is destroyed when opened, providing clear tamper evidence.
For any further information please contact us.